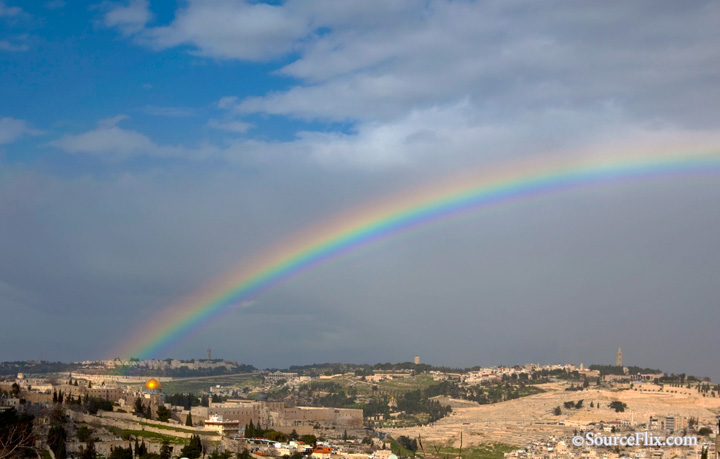 On my way home from my Archaeology class in the spring, I saw this rainbow begin to form over Jerusalem and sprinted to my apartment to grab my camera before it disappeared. Since there are roughly 80 kilograms of real gold on the refurbished Dome of the Rock, this is as close as I've ever come to gold at the end of a rainbow!
Seeing a rainbow always reminds me of covenant.  When God promised Noah and all creation that he would never destroy the earth with a flood again He said, "I have set my rainbow in the clouds, and it will be the sign of the covenant between me and the earth." (Gen. 9:13)
This particular rainbow arched down over the most ancient part of Jerusalem, the City of David. That is where God spoke another covenant promise, this time to King David saying, "Your house and your kingdom will endure forever before me, your throne will be established forever." (2 Samuel 7:16)  In the background you can see the Mount of Olives where scripture informs us that Jesus, the fulfillment of that promise to David, will return and plant His feet and begin to establish His rule on earth — the King of Kings and Lord of Lords, shining more gloriously than any rainbow and of much greater value than mere gold!