The Sacrifice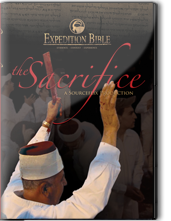 For many years Jewish priests in Jerusalem have been making pieces of furniture for use in the third temple in expectation that it will be rebuilt soon, and that after more than 1900 years their priestly duties will be restored. To prepare for this, in recent years priests gathered in Jerusalem and sacrificed a Passover lamb. Host, Joel Kramer was there to capture this rare event on film so that you, too, could see the Biblical principal of atonement demonstrated like you've never seen it before.
Additional footage comes from the Samaritans, a Biblical people who also still sacrifice animals today according to the Law of Moses. Join us in watching this unique episode of Expedition Bible that will teach you the profoundness of why God required the sacrifice of animals for the forgiveness of sin and the promise of ultimate redemption it pointed to!
Runtime: 35min.
NTSC Widescreen | 16:9 | Region Free DVD
Language: English
© 2011 SourceFlix. All rights reserved.



Watch Trailer
DVD Price: $10.00
Download Price: $10.00
---
"
Wow! I don't know how anyone could watch this and not be deeply moved. I thought of how the blood sacrifice began even in the garden after Adam and Eve disobeyed God and He slayed an innocent animal to make clothing out of the skin to cover them. Watching the lamb being dragged led me back to walking the path that Jesus walked, carrying the cross for me, for us all. Bleeding for me; for all. Thank you Joel. God Bless you brother.
"
— J. Luckock, comment left on SourceFlix website
"Well done. Powerful and realistic images of what the sacrifice means to us as believers. Too often the word sacrifice is a sterile concept. Thanks"
— E. Hanson, comment left on SourceFlix website
---