The Jesus Tomb Unmasked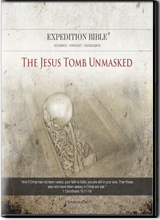 What explanation can be given for the empty tomb of Jesus of Nazareth?
The New Testament records the first-century event. The disciples of Jesus reported that he was risen from the dead, while Roman soldiers were paid to claim his followers secretly removed him from the tomb.
After 2,000 years, the latest challenge to the historical resurrection of Jesus comes in the form of a bone box discovered in Jerusalem. The recent documentary, The Lost Tomb of Jesus, has popularized the hypothesis that Jesus' followers stole his body from the tomb by suggesting that the bone box inscribed with "Jesus, son of Joseph" may contain the remains of Jesus of Nazareth.
As a new twist to the ancient debate, this challenge demands a response. Join us as we take a hard look at the evidence and answer the questions concerning the reliability of the ressurection. Have the bones of Jesus of Nazareth really been found? Is the resurrection history of myth?
"But in your hearts set apart Christ as Lord. Always be prepared to give and answer to everyone who asks you to give the reason for the hope that you have. But do this with gentleness and respect." 1 Peter 3:15


Runtime: 33min.
NTSC | Widescreen 16:9 | Region Free DVD
Language: English
© 2008 SourceFlix. All rights reserved.



Watch Trailer
DVD Price: $10.00
Download Price: $10.00

---
"Been following your work for a few years. Our church was blown away by the Jericho Unearthed dvd. Since then we've been enjoying other stuff you've put out, including The Jesus Tomb Unmasked during easter week. You guys are doing amazing work. You are truly making a difference for the Kingdom of God. We look forward to future projects and showings.
God bless!"
–G. Pensiero Jr., email to SourceFlix
---